Grape Picking 8/20-9/10
(9/3,4,5 close)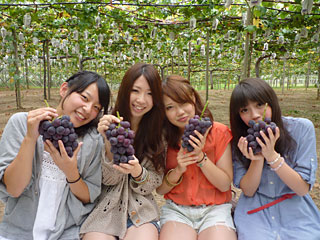 Grape picking admission time is from 9:00am to 4:00pm (5:00pm close)
No time limit-all you can eat.
Bowls,scissors and mats are free to use.
Large parking area is available for everyone.
In the case of heavy rain and typhoons, we will close the field.
Opening period maybe changed due to weather conditions.
When you come here by taxi, please show a driver this page.
Grape picking Admission fee (Payment is cash only)
Adult
(13 years old~)
Children
(7~12 years old)
Young children
(4~6 years old)
Senior *1
(65 years old~)
Individuals
¥1,700
¥1,100
¥800
¥1,200
Gropes
(20 people or more like)
¥1,600
¥1,000
¥700
¥1,100
*1 For senior prices, you need to show us your ID (drivers license, insurance card, etc)
Younger than 3 years old children are free.
For groups of less than 20, reservation is not required.
You can get in with group price if you show this page at the reception.
Gropes of 20 or more, please reserve on our reservation page up to 3 days before your planned visit.
Souvenirs are not included in the ticket price. Please purchase these separately.
Please purchase any leftover grapes.
Please let us check all large storage boxes when you leave.
Please do not use items such as parasols or tents in the field.
Please note that you must travel uphill on foot to the field.
Access
When you come here by taxi, please show a driver this page.
Sugwat farmers.inc
5-63, Naganecho, Obu Shi, Aichi Ken, 474-0021, Japan
TEL:0562-46-3707
Grope Reservations 8/20-9/10
(9/3,4,5 close)
Only reservations from the form below are accepted.
Telephone reservations are not taken.
Please reserve at least 3 days before your visit.
To cancel reservations, please contact us at e-mail info@sugwat.co.jp or TEL 0562-46-3707 one day before.